When the original "Parent Trap" was released in 1961:
Joanna "Vicki" Barnes was 26
Maureen "Maggie" O'Hara was 41
Maggie: "..you are a
young
thing."
(she
is
??)
What the hell happened to Vicki? 26??? a
rough
26.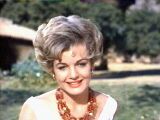 -------------------
Please note, I still think she is fabulous and this is still one of my all time Disney favorites...just something I kinda wondered about. They make all these references as to how young she is. And, granted, 26
is
young compared to Maggie's 41, but wow...the look of 26 in 1961 sure has its own concept!
Just a thought!
*Tommy