Has anybody listened to the "Lady And the Tramp" soundtrack? I have the it CD from 1997, but the original LP on the Disneyland label back in the early 60's features updated versions with orchestra arranged and conducted by Tutti Camarata. Features vocals by Teri York and Bob Grabeau. That might be a collector's item, I might try to find it in Goodwill and the Salvation Army thrift stores soon or maybe at a flea market before spring comes if the weather gets warmer. I have the story of "Lady And the Tramp" from 1962 it was told by Ginny Tyler as Lady. It was a die-cut "Magic Mirror" on the front and it doesn't have a picture of Lady and Tramp on the front because someone has torn off the page. The record is in fair condition, a few scratches were there. Here is the pic of the LP I have.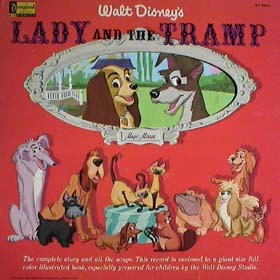 I might try to get this soundtrack LP soon if I could show you another LP cover from the front and back of the "Lady And the Tramp" soundtrack from 1962.
I hope that the cover for the soundtrack LP will be included on the "Mouse Tracks" book next month. Any suggestions?