A while back, I posted
a thread
asking for help in tracking down information on the specific edits found in
Disneyland USA
, the DVD collection found in the first wave of Walt Disney Treasures. Many of you were quite helpful as I conducted research on this.
Why was I doing it?
Well, since this great series rolled out from Disney (and not being so versed in the history of the Mouse), I was a little bummed that the first wave didn't provide more details about the shorts/shows. You know, information like release dates, director, a summary of each short/show, etc. So a year ago I created a personal set of inserts for
Mickey Mouse in Living Color
. After sharing this personal project with a DVD community I visit often, others wanted copies of the inserts, so I provided a way for them to be downloaded.
I wanted to let all you big Disney music fans know that I've recently completed a custom DVD insert set for
Mickey Mouse in Black and White
, the 4th in my series for the
Walt Disney Treasures
collection.
In this collection of free inserts, you'll discover shocking details, such as:
- Donald Duck promoting the use of asbestos
- Tobacco addictions of early Disney film characters
- The identity of the "actual" first black and white Mickey Mouse short
- Stereotypes of various people groups explained
- Mickey Mouse having no problem firing a gun when angry
- Sensual tango dancing by Minnie
- Gratuitous violence against animals by our favorite corporate icon
- And much, much more!
For reference, I used the inserts from the original
Mickey Mouse: The Black and White Years - Volume One
laserdisc and added information from the
Encyclopedia of Disney Animated Shorts
, the
Big Cartoon Database
, and personal research.
I'm very thankful that Disney learned from some of the shortcomings in Wave 1, many of which prompted me to create these types of inserts in the first place. Thankfully, we now have been given the option to list the chronological order of the shorts on a disc (though it seems like we traded off the PLAY ALL feature to get it... which never played every short anyway). It was also nice to see the use of Easter Eggs toned down (unlike the treasure hunt that was
Silly Symphonies
). As far as I can tell, we aren't given any previously edited shorts like were found in
Living Color
and
Silly Symphonies
. Leonard Maltin's "prefaces" throughout
Black and White
avoids editing by putting the films into today's context. Also, unlike the
Disneyland USA
set, it doesn't appear that we have any content that was edited for the DVD because Disney had rights/permissions issues. Overall, they did a great job this second time around.
Like previous insert sets I've done, this collection contains a chronological list of release dates for each short, along with the name of the director and summary. When applicable, I've provided insight to information "behind the short" as well as explain controversial scenes via an "uncensored" listing. Additionally, instructions for finding the Easter Eggs are included. If you have never downloaded any of my inserts before, here is a compressed snapshot of what one looks like: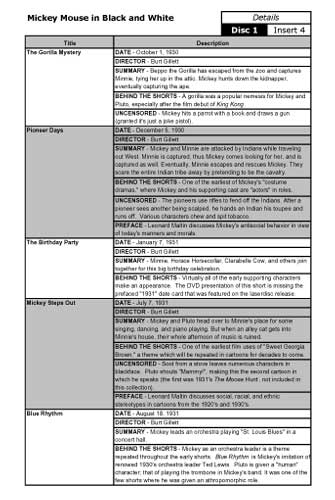 Each insert has been converted into PDF format so that it will print with accurate resolution and dimension on your printer. Scissors are not included.
Personally, I've run my inserts through a lamination machine, which helps them hold up well.
I've also gone back and revised my some previous inserts with more current information and an easy-to-read format. These sets include:
-
Mickey Mouse in Living Color
-
Silly Symphonies
-
Disneyland USA
Click here for a listing of available inserts
Since I discovered this forum a few years back, I've appreciated all the knowledge about Disney music that has been shared. Consider this a small bit of thanks! I hope you find this information helpful. If you find any inaccuracies, want to provide feedback, or just have a suggestion, let me know. I'd love to hear from you!
Enjoy!
- Steve